The DVD/CD/USB Pendrive Encryption Software
Home > Products > Home Edition News > Improved password window of the autoplay module
Master Voyager 2.74. Interface enhancments - improved password window of Mobile Voyager.
January 28, 2011
We are happy to announce the release of Master Voyager 2.74.
Current version has several interface and usability improvements.
Now password window of the autoplay module looks like the same as the window in main application - Master Voyager.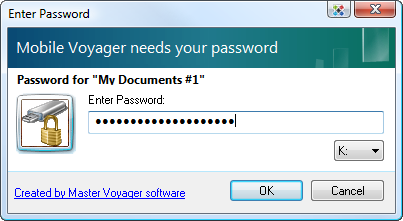 Additionaly, we improved usability. Mobile Voyager is now closed automatically when ESC key os pressed in the password window (it works only when the password windows is called from the auto play process).
Moreover, we fixed some minor glitches of drawing title bar of file panes in the Partition Explorer module.
Registered users of Master Voyager can download this update for free of charge (as well as all future updates within current major version 2.xx).
Send encrypted CD via mail?
Use encrypted USB stick for Work/Home
How to transfer documents safely between home and work on encrypted USB Flash Drive?
Read how to use usb encryption to create password protected USB Flash Drive with integrated autoplay module
Master Voyager Home Edition 3.35
November 13, 2016
Improved compatibility with Windows 10.

Master Voyager Home Edition 3.32
January 11, 2015
Fixed incompatibility problem of the licensing system with the 2016 year.

Master Voyager Home Edition 3.31
November 10, 2014
Several minor bugs have been fixed.