The DVD/CD/USB Pendrive Encryption Software
Home > Products > Master Voyager Business
Master Voyager Business Edition
Security of Your Company Data is Everything
Master Voyager Business is our flagship product offering the complete suite of removable media security modules. Users of Business edition can use the software in commercial environment.
Utilize the import CD/export CD modules to speed up the compact disc duplication.
Make Your Life Better. Minimize the Risk of Data Theft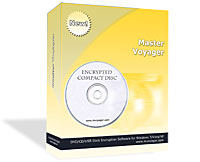 Use Master Voyager's strong encryption to lock your company's data on burned compact discs.
No matter what you do - send cd via postal mail or use cd to backup data.
Business Edition includes
all features

of the Home Edition

plus:
Ability to export protected CD to the CD Image Project to use it with another blank CD
Possibility to set multiple passwords for every secure zone (master password and user password)
Right to use the software in commercial enviroment, volume discounts when ordering software.


What's new in Version 3.36?
Master Voyager Business Edition 3.36
January 21, 2017
Improved compatibility of Master Voyager with some USB Flash Drives.

Master Voyager Business Edition 3.35
October 31, 2016
Improved compatibility with Windows 10.

Master Voyager Business Edition 3.34
July 3, 2015
Fixed minor problems in the file handling..

Deploying drivers in network
Network administrators can deploy
driver-only msi installation package
in their network to provide ability to use encrypted compact disc/usb memory sticks under any limited user account in on-the-fly encryption/decryption mode.
Where to download installdriver.msi
?